About Us
Our Journey
The brand HYDROMASTER, an original UK brand, has been around for more than half a century. Sykes Marine (Hydromaster) Limited continued the product in 1987 with production facilities first in Harlow and later on in Grays. Since 2015 the brand finds itself in Dutch hands with main activities –  including R&D, engineering and production – transferred from the UK to the Netherlands.
Hydromaster's partners are pictured here in front of its headquarters in the Dutch city of Rotterdam.
Jan Terlouw is responsible for sales, Gert-Jan Koolmees is responsible for technology and production, Henk Terlouw is responsible for R&D and Steven Linskens is in charge of administration & business development.
Together they represent nearly 100 years of experience in steerable propulsion.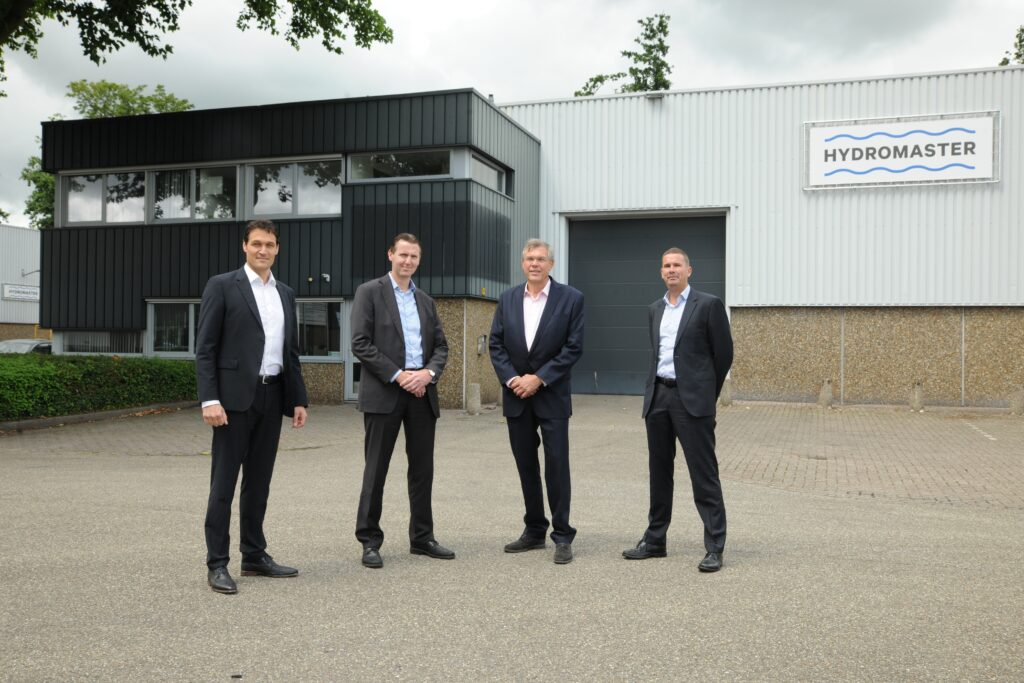 Our History
Steerable thrusters originated during the late 1930s. Their first large scale operation was on US pontoon barges and ferries hopping islands in the Pacific.
Later on, they were extensively used by the allied forces during the Normandy landings on landing crafts, so-called Rhino ferries, and at a later stage installed on pontoons to cross rivers in mainland Europe.
In the early 1950s, a license was issued to the United Kingdom, from which Hydromaster was born. Hydromaster spent the following decades building 360 degrees steerable thrusters on this revolutionary technology.
Our Service
Hydromaster propulsion units are built to last, extremely sturdy and easy to maintain.
For service and spare parts support, call us during office hours or email us at [email protected].
For all online requests, we will respond the same day during normal office hours. Outside office hours we aim to respond within 12 hours.